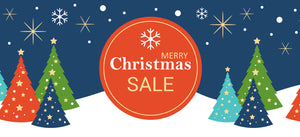 Survival Christmas Sale - Ends Monday
Survival Christmas Sale - Instant 25% OFF Everything
Coverall
This guide covers all necessary scenarios and is a must for every busy person. About as thick as 3 to 4 credit cards. Comes with a HANDY magnifier. Love it!
Fast service
Thanks
These tiny guides are great!
You never know when you made have a situation where a professional guide would be very helpful. This is almost as good
Perfect compact survival guide
Every year, we send out holiday gifts to our clients and contractors. During the 2020 pandemic, we created a survival themed holiday box and liked these so much we ended up ordering 175 guides for our entire team. This was one our favorite items we included in that year's box and fit the theme perfectly. Originally started out as a gag gift, but the guide has come very useful information that can be stored in travel bags, vehicles or anywhere else that one might come in handy.
Survival Tools in the wallet.
I keep a copy of this in my EDC kit. It's small form factor is perfect and the information is vital.
Brilliant
I have bought many survival knives in the last 40 years, all were bought to use, not to put in a case. Most were from big name knife manufacturers, but several handmade knives were purchased. None of them were without shortcomings, and I learned the tip can be broken off an $800 knife, and that most of the sheaths were an afterthought. I recently purchased UST's PACK-1 knife, and for the first time there are zero disappointments. When in the hand this knife feels like a natural extension of your arm. It is very comfortable in any position in the hand, and easy to grip with the slotted micarta scales. It is extremely sharp out of the box, and David's choice of steel is excellent. The 5 position Kydex sheath is an engineering marvel by itself. More thought has been put into every aspect of this knife and sheath system than I have ever seen before. This is the equivalent of buying a handmade knife, except you get a much better sheath, nothing off the shelf here. David is clearly a man who uses a knife everyday. I have also bought an MSK-1 Primitive, and I can say with no reservations these are the two best, most rugged, useful knives I own. If you are someone who appreciates and depends on a good blade, the PACK-1 should be your next investment.
So, there was a sale.
however, i purchased my Pack-1 before the sale. I love this knife but i wish i had waited for the sale. But, it was worth what i paid. thank you for making a great knife!
Amazing life tool
The Pack-1 is easily the best knife that you could ever want, besides the MSK-1, to get you through any situation. It's so sharp that I barely felt the tip hit the bone in my thumb. I switched the sheath to a scout carry and was just touching it to reference where the opening was. My mistake! I will never need another knife again, because if I bought another knife my wife would dispatch me with the Pack-1! My only complaint is the sheath. I know that kydex is superior for retention but it digs into everything when I sit down. For this caliber of a knife I would have liked a very well thought out leather sheath, maybe a quality dangler or a higher ride sheath. As far as the knife goes, there's no way to improve on perfection!
Pack-1 Elite review
Hello David, as an individual with dozens of knives of every type the Pack-1 is all it's cracked up to be.
It feels wonderful in my hand and inspires a feeling of great confidence and ability to conquer almost any task.
Well done
Lee
If it is not proven quality, David does not sell it or endorse it.
If you make the effort and take the time to train and learn critical survival skills, your chances of a successful outcome greatly improve! The material solutions found at Ultimate Survival, coupled with the extensive lessons/podcast/instructions (aka: knowledge) that David has accumulated and shares makes him a one-stop-shop. If it is not proven quality, David does not sell it or endorse it. In the right hands, the Tiny Survival Knife and Tool Sharpener Kit are HUGE and make the difference in getting off on a good start.
Great and portable.
This tool sharpening kit is great for camping and bushcraft. I love how small and compact this set is and how easily it fits in my wallet. The 500 grit side is great for getting nicks out of the blade or sharpening your axe. the 1000 grit side is great for knifes and finer sharpening. the leather strop is a pretty standard strop and so is the stropping compound. Over all I think this is a almost perfect compact sharpening kit
Simple but effective
Easy to carry, easy to store, and easy to sharpen your knives.
Outstanding Information!
Easy to follow, with tons of information. They guides also provide videos for demonstrations.
Versatile piece of equipment
Package was fast delivery! I like that! The survival knife handle along with ridges felt just right for my grip, the weight perfectly balanced and kits inside the handle are water resistant materials that can rely on which that makes me want this. Even though I haven't use it yet but I'm exciting to try it soon for hiking and camping. Love the design and purpose of it for useful and benefits needed.
Amazing Knife!!
I've been watching and wanting this knife for 5 years. Finally, I was able to save enough to buy this fantastic knife. I'm your everyday guy, retired military and outdoor enthusiast. The knife was extremely sharp, full tang and feels really good in my hand. The weight balance distribution is right on point making the knife very easy to work with and to manipulate. Besides the fact that it's very durable it is also an extraordinary great looking knife. The only minor issue is trying to fit the survival pieces in the handle, maybe consider trying to hollow out the handle a bit more for extra room. Also, can a button compass be incorporated in the handle with a small reflective mirror for signaling? Other than that I'm so excited to buy my next knife from ultimate survival. TY Phil Blomme
Black Tactical / Bushcraft Knife
I like this knife as it has the perfect size, not to big and cumbersome allowing fine works but big and sturdy enough to split wood
Well balanced design
Overall design is shorted than other survival/bushcraft knives that fills the hands well. The balance if spot-on especially with the wooden handles. Like the idea of the tools hidden in the handle that are unobtrusive once in place. Only minor quibble is the slight gouge in the wood handle on one side that was sanded smooth by the factory. Aesthetically didn't like this initially but have since all but forgotten about it. Edge could have been sharper but is fine for light bushcraft tasks. Overall am pleased with purchase.
Nice knife, moderate sheath
Sheath is not the best for me. Too rigid attachment, and I don't like the slanted entry/exit for the knife.
I bought the Tiny First Aid Guide for my son as part of his continued education. Also picked him up a Tiny Survival Guide. They are packed full of info and I truly feel like the guides will be a great benefit to him and others around him. I am excited to see how his studies and practices of the info/skills on them will make him more confident and helpful. I am planning on buying many more. Thanks for offering awesome products at great prices!
Too effective/accessible to miss!
Great product!! Useful to EVERYONE!
EXCELLENT RESOURCE!
Everyone should have one of these. Lots of great information!
Thorough and compact! High value.
I bought them for each car, our travel trailer and earthquake go-bag first aid kits. Increases the value of the kits when you have clear instructions to guide you at the time and place you need them. Recommended!!!
Excellent! A great pocket first aid guide!
All the basics and then some right in your pocket. Well laid out and easy to find. Print can be small but clear. Worth having one in every vehicle and every day pack.
Beauty and the Beast!
Once you get this knife and hold it in your hand you realize what that statement means! You can tell that much thought and calculation went into the design of this thing. Not many products can cover such a wide range of usage and do it well but this knife can and does. Add the neck knife to the mix and all bases are covered! And…It's nice to know that David does not hesitate to revise and refine based on customer reviews given that he has come out with the 2.0 version of the Elite as well as other models based on the original design.
One crazy deal!
Hi David and the UST/MSK team,
I'be been thinking of upgrading to USA made MSK1 for quite a while. I already own a Primitive, that stays with my get home kit and a Black that stays with my vehicle/ BOB. When I learned you were discounting the Elite for "black Friday", I didn't hesitate. I'm really glad I ordered it as it looks like they are sold out! I received the knife the other day and I absolutely think it's the best deal I've made in a while, it will going into the SERE sheath, I also purchased, on my tactical ready belt. I liked the knife and deal so much that when I received it, I immediately ordered a PACK 1 knife as well. It just came today and has already replaced my BK16 as my all around favorite knife.
Good work team, I'm looking forward whatever comes next!
Already in my hands
Sorry for the delay with my review. Not much time available and for that same reason I haven't use my MSK1 Elite yet. My words will describe my first thoughs once I had the knife in my hands…
It is exactly what I expected. It feels durable, perfect weight, very well balanced (in my opinion). I'm not an expert, I just know that I love knives and due to quality I always have to go for another one.
I think that I found my last one.
MSK-1® Elite 2.0 Survival Knife
I saw so many negative reviews which were all rubbished when I took the knife in my own hands. So much is great about this knife that anyone complaining about David comparing it to an axe and suggesting this knife could replace an axe is totally missing the point of what David has created. It is a total system and I am sure that David will continue to be innovative in developing this wonderful knife.
Tiny Survival
The name says it all. Is it a backpack full of gear? No. It fits in your pocket. It helps you when you have nothing. Funny thing is that with this kit you have everything you need to help you make it through. I have three of these kits now ( I think) and I have even used it to replace some other items in my bag due to the difference in weight and quantity. Top product from a top company.
Advanced EDC - Tiny Survival Kit - Build Bundle
Best!
Fits easily in my bag and gives me a sense of security knowing I have it with me at all times. You just never know what crazy thing may happen. Thanks!!
Everyone needs this!
Great product, well thoughy out. Just slip it in your backpack or pocket and you're good to go!
Excellent knife for the money this is my second one John
MSK-1 Elite Warrior SERE Knife
It's great.👍👍 Immediately noticed how well it was packaged, appreciate everything extra that comes with it. Factory edge is EXTREMELY sharp and after some use the 154cm steel is easy to sharpen. SERE sheath is incredibly versatile. With kit in handle, it will weigh down the belt. However, the balance is perfect and fits the hand, in any grip, perfectly as well. This is a true survivor's knife. 👍 Made in The United States of America.
My MSK-1 Elite Warrior SERE Knife
I purchased the MSK-1 Elite Warrior SERE Knife for two reasons. The first being for my bugout bag, the second for hiking and camping activities. I'm relatively sure that, except for maybe pocket folders, this will be the last utility knife I will need or buy. It came very sharp, and the quality is excellent. What reason would there being for buying another knife?
The only knife you will ever need
This knife is so versatile. The build quality is premium quality. It is the all in one knife. I have used it camping on several occasions and also own the primitive knife as well. I recommend these to anyone who loves knives and camping.
One top Blade
I waited a while to get this blade and I'm glad I did! This is the knife I wanted since it came out, It's worth it''s weight in gold. I love this knife! Thanks for making one heck of a survival knife!
Lite, sharp and I love it
Superb American made knife.
The MSK-1 Mini-Survival Neck Knife is a beautifully made, easily carried, easily concealed dependable EDC.
I highly recommend it.
Fundamentally important
Mayfield, KY tornado
Memphis Wolf River SAR
IronButt Association SS1000
The MSK-1 inspires your confidence but more importantly, you show up prepared.
The neck knife further assures others that they're in good hands.
Know how to use your stuff.
Recognize who doesn't.
Beware of fake tourniquets.
Prefect lit blade
Fits in the hand good stays sharp, easy to sharpen good working knife
Go to hat
This is my go to hat, fits perfectly, and starts conversation, great way to explain to people about preparing.
Great fitting hat, and the UST logo is a great conversation starter.
The best
Has everything anyone would need to get through a disaster ad survival situation.
My survival kit arrived on time and is a great addition to my bug out bag. Filled with great and essential items.
MSK-1® Firesteel Kit 2.0
Having a way to make a fire with the knife can be really useful if for any reason you are separated from your backpack
It makes great sparks
Making fire
It work's great with my MSK-1 Warrior through's good sparks starts fire quick
Firesteel kit
Very small, awkward for my large hands, planning on using it as emergency backup to my larger ferro rod.
Tween to fire steel kit
I haven't actually put the steel to spark yet but, I do think it's the right size to carry on knife and will produce enough spark to get the job done. My only suggestion is to put a red bungee retention cord, possibly with a reflective element to it so that if you lose it, It would be easier to find. I did just that modification to mine and now it's as close to perfect as you could get in my opinion.